Editor note: This report was originally published by Devenir Research and appears here.
The majority of this report was derived from the 2014 Year-End Devenir HSA Market Survey. This survey was conducted in order to continue to help shed light on the rapidly growing and evolving health savings account market. The survey was carried out in January, 2015 and primarily consisted of top 100 HSA providers in the health savings account market. All data was requested for the period ending on December 31st, 2014.
Key Findings
HSA accounts approach 14 million. HSA accounts rose to 13.8 million, holding over $24 billion, a year over year increase of 25% for HSA assets and 29% for accounts for the period of December 31st, 2013 to December 31st, 2014.
Health plans drive growth. During 2014, health plans were the leading driver of new account growth, accounting for 35% of new accounts.
Continued strong market fuels HSA investment growth. HSA investment assets reached an estimated $3.2 billion in December, up 40% year over year. The average investment account holder has a $12,995 average total balance (deposit and investment account).
Investors show solid returns. Investors achieved an average annualized return of 12.5% on their HSA investments over the last 3 years.
HSA assets exceed $27 billion January 2015. The 2015 January HSA Supplement Survey found that HSAs grew to over $27 billion in assets by the end of January, 2015.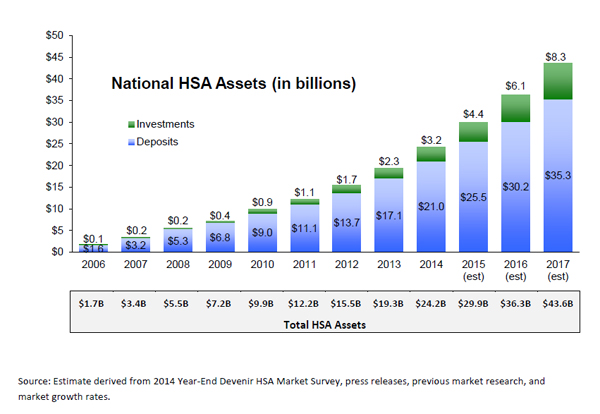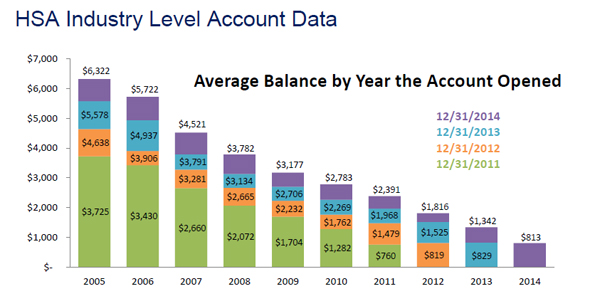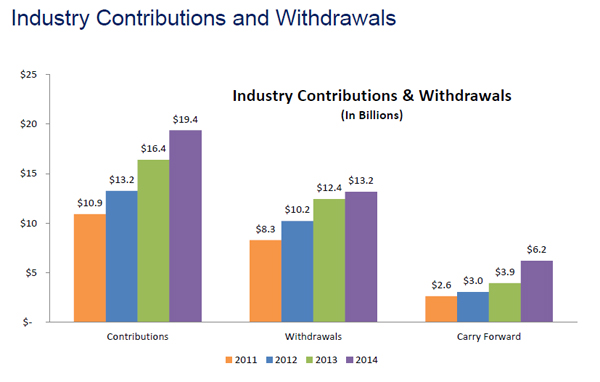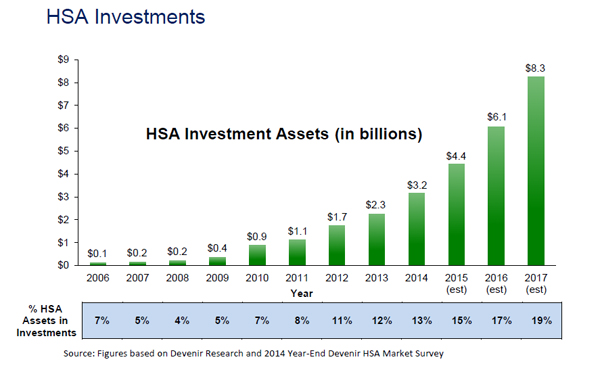 HSA Marketplace Projections
HSA providers continue to be optimistic in their outlook for the HSA industry, projecting HSA asset growth of 28.1% for the full year. In previous surveys HSA providers have been reasonably accurate with their growth forecasts, demonstrating an impressive understanding of the outlook of their book of business. Devenir currently projects that by the end of 2017 the HSA market will surpass $40 billion in HSA assets held amongst almost 30 million accounts.